Become a Flight Nurse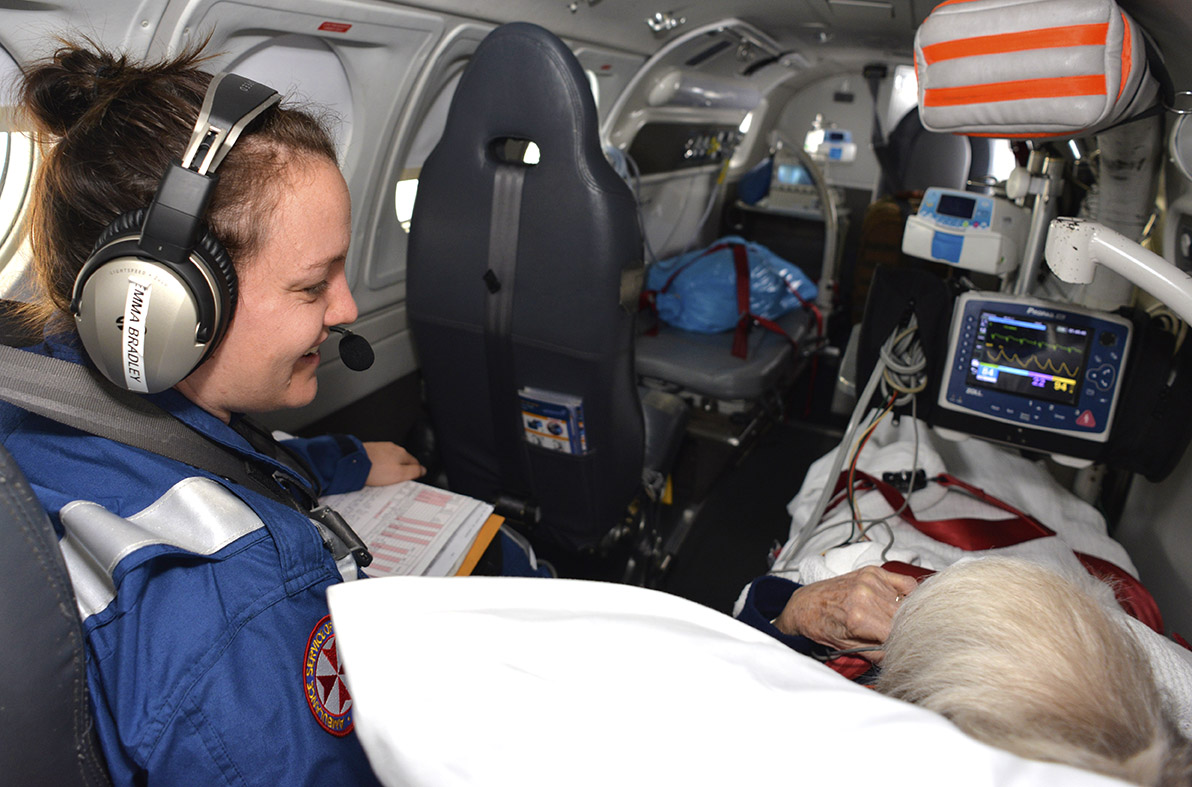 Enquiries are welcomed at any time from registered nurses/midwives and nursing students considering a career in flight nursing by contacting us.
Contact the senior flight nurse to experience firsthand New South Wales' most unique nursing specialty:
Come and join us on an observer flight if you are a registered nurse/midwife.
Final year nursing/midwifery students serious about becoming a Flight Nurse, clinical placements are offered with universities that have a Memorandum of Understanding with NSW Ambulance. Please check with the University's Clinical Placement Coordinator in the first instance. Selections for clinical placement are made by the University.
Information Sessions will be held three times a year. The first Friday in April, July and October. Anyone interested in a career in flight nursing is eligible to register interest.
Role of a Flight Nurse
Flight nurses are responsible for the nursing and clinical management of patients being transported by the NSW Ambulance Fixed Wing, between country and metropolitan hospitals/ health facilities within NSW and interstate. Responsibilities include triage, clinical care of patients prior to, during and after flights with some road transport, other ground based and administrative duties.
Flight nurses predominately work autonomously approximately 99% of the time. The other proportion is part of a larger retrieval team for complex high acuity patients. The crew on a standard flight include a flight nurse and Pilot who work in a Beechcraft Super KingAir 200 or 350. Flights are prioritised according to the patient acuity and assigned an appropriate response time.
The aircraft becomes an extension of an emergency department, hospital ward, intensive care or any specialty unit. A diverse range of broad based medical categories and diagnostic groups are transferred ranging from cardiac, high risk obstetrics, surgical, neonatal, trauma to aged care and palliative patients. Last year over 5,000 patients were transferred.

Flights are based out of Sydney Airport. Ten crews depart daily. Every day and every flight is different. Some challenging, independent nursing practice in remote and regional NSW is guaranteed. Each crew and aircraft return to Sydney at the completion of a shift.
Selection Criteria
Dual Nursing and midwifery registration on the Australian Health Professional Registration Agency, Registers.
Qualification and/or extensive experience in Aviation Nursing or adult critical care fields limited to Emergency, Cardiac, Cardiothoracic or Intensive Care Nursing.
Demonstrated ability to work independently and as part of a multidisciplinary team.
Demonstrated knowledge of NSW Health system and the role of Air Ambulance Service in relationship to the health system.
Excellent communication and interpersonal skills.
Ability to swim and Class C Driver's License NSW or equivalent.
Evidence of protection against infectious diseases. List will be provided at time of application.
Recruitment is competitive and based on a merit selection process.
Paid Flight Nurse's Orientation and Training Program
Flight Nurses Orientation Program. Extensive orientation to the aviation environment is provided which is fully mentored.
Flight Nurses Program. An extensive six months program is provided to develop as a Flight Nurse culminating in a unique opportunity to becoming an autonomous nurse. Endorsement for an independent scope of practice is through the NSW Ambulance, which includes pharmaceutical interventions, policies and procedures.
Continuing education is provided for annual endorsement of advanced life support in adult, paediatric and neonatal and obstetrics onsite. Access to external courses is provided for ALSO (Advanced Life Support in Obstetrics) and FONT (Foetal Obstetric, Neonatal Training). Continuing Professional Development is invested into Flight Nurses by the organisation in accordance to APHRA requirements. A full time Clinical Nurse Educator supports all the programs and ongoing education with realistic simulated practice and assessments.
Aviation Safety Education is provided by experts in the aviation industry to the same standard as flight crew on a commercial flight. Safety of crew and patients is paramount on each flight.
Clinical Placements are provided in a large range of specialty clinical areas such as anaesthetics for advanced airway management, midwifery units and regional or tertiary units. Nursing practices at NSW Ambulance are maintained at the same level as that of a tertiary unit in any capital city.
Research in Aviation and Flight Nursing practice is fostered and supported. All research is nurse initiated and evidenced based.
Career Path Opportunities
Flight nurse starting salaries $81,968 pa including salary annual leave loading and employer's contribution to superannuation. Salary packaging arrangements and additional benefits are also available. An industrial allowance, conditions and additional provisions are incorporated into the NSW Public Nurses and Midwives Award.
Incumbent flight nurses will start at the level of year of Registered Nurse practice.
Clinical Nurse Specialist Grade 1. Early progression is acknowledged based on your prior nursing experience.
Clinical Nurse Specialist Grade 2. This grading is available when vacancies occur. Currently there are 11 funded positions within the establishment. These positions are open to external applicants with flight nursing experience and Aviation Nursing qualifications.
Flight nurse/Midwifery educator.
Nurse Unit Manager
Nurse Manager 3 also known as the Senior flight nurse.