Operational Recruitment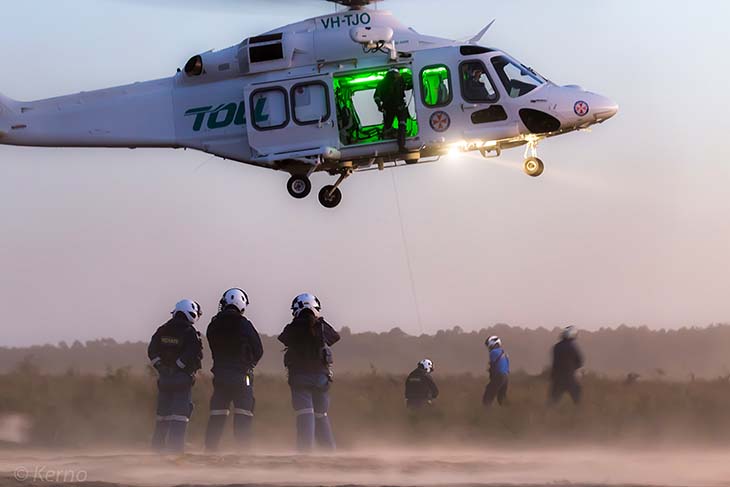 Exciting opportunities exist for critical care registrars to undertake a minimum six month rotation in Pre-hospital and Retrieval Medicine with the Greater Sydney Area Helicopter Emergency Medical Service (GSA-HEMS). Critical care includes Emergency Medicine, Anesthesia and Intensive Care Medicine.
About the Helicopter Emergency Medical Service
NSW Ambulance's Greater Sydney Area Helicopter Emergency Medical Service (GSA HEMS) is the largest retrieval service within the broader NSW aeromedical retrieval system.
We carry out more than 3,000 missions every year treating some of the state's most critically ill or injured patients. With three helicopter bases located in Sydney, Wollongong and Orange, we are ready 24 hours a day to respond to calls following pre-hospital trauma, as well as inter-hospital critical care retrievals on a variety of platforms including helicopters, road vehicles and fixed wing aircraft.
Accreditation
The service is accredited for Emergency Medicine and Anesthesia training with the relevant Australasian Colleges and has close links with other retrieval services worldwide. Ongoing rotations may be facilitated with these services for suitable applicants.
Training
The Greater Sydney Area Helicopter Emergency Medical Service provides a complete orientation, comprehensive training and continuing education package for successful applicants.
Training incorporates helicopter winching operations, Helicopter Underwater Escape Training (HUET), pre-hospital and inter-hospital scenario-based training, a Canyon Day exercise in the Blue Mountains with highly skilled paramedics, motor vehicle extrication and pre-hospital trauma management as well as complex inter-hospital critical care.
Ambulance runs fortnightly Clinical Governance/Education days attended by all staff. Registrars have a number of non-clinical portfolios to choose from and are also encouraged to be involved in one of our many research projects.
Want to apply?
Eligible applicants for a position with Ambulance GSA-HEMS are Advanced Trainees in one of the critical care specialties, in their final year or completed training. This ensures airway proficiency and extensive clinical experience in the management of critically ill patients. Superior communication skills and the ability to adapt clinical practice to difficult environments are required. Senior retrieval consultants are available 24 hours a day for clinical advice.